Rade Šerbedžija –  USA Tour 2018
Rade Šerbedžija & Miroslav Tadić
– LIVE ON STAGE –
Two world-class artists, reunited for a special performance.

---
SAN JOSE – MAY 27, 2018
Sunday, May 27, 2018 at 8PM
Trianon Theatre, 72 N 5th St.
Ticket: $40 in advance. All Ages
Door at 7pm / Concert at 8pm
More info: 510-229-0725 / 510-690-4585
Please note: Online sales are now closed. Please bring your I.D. to pick up the tickets at the door. I.D. must match the name on the credit card with which you purchased the tickets. If you purchased tickets for someone else you must inform us via email: info@gremy.com otherwise the tickets cannot be issued.
You can still purchase tickets tonight at 7pm at the Trianon Theatre
---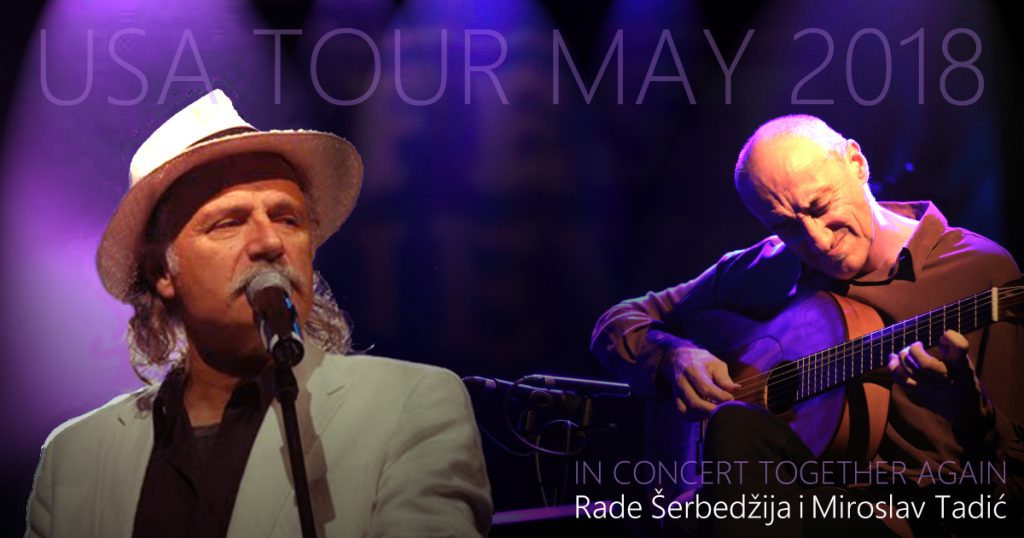 Miroslav Tadić, is a world-renowned guitarist, composer, improviser and music educator of Bosnian, Serbian, and Croatian origins. He performs regularly in Europe, Japan and the United States and made over 30 CDs for numerous labels. Tadić teaches guitar, improvisation, and Balkan Music at the California Institute of the Arts in Los Angeles. //www.miroslavtadic.com
Rade Šerbedžija is a world-renowned actor, director, and musician. He is one of the most popular Yugoslav actors of all times and is known for his many roles in Hollywood movies. Rade Šerbedžija is also a well recognized musician and poet, performing all over the world. // Rade Serbedzija official