Due to the current situation caused by COVID19 pandemic all concerts are postponed until further notice.


From PureLiveMusic – IMPORTANT UPDATE
September 27, 2020
Zdravko Colic concert scheduled for Friday, October 9th, 2020 has been postponed to September 17th, 2021.

Tickets purchased for the original event will be valid for the rescheduled date. If you purchased your tickets online and require a refund instead, please email Ticketweb Customer Service before Friday, October 9th, 2020 at 12:00pm.
Ticketweb Customer Service Email is: help@ticketweb.ca

If you purchased tickets for cash at one of the local retailers and wish to receive a refund, please visit them from Saturday September 26 2020 through Friday October 9 2020 to receive your refund.
**After October 9th, refunds will no longer be available & your tickets will be valid for the new date**

Tour Organizer: PureLiveMusic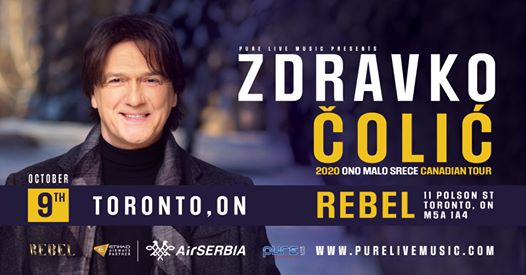 This Concert has been rescheduled to September 17th, 2021
EVENT INFO  |  Buy tickets online  |  Buy tickets locally
---

POSTPONED due to Covid19


HARI MATA HARI & VALENTINO – live in concert
Dates to be determined
TORONTO  |  INFO & TICKETS
DETROIT  |  INFO & TICKETS
NEW YORK  |  INFO
CLEVELAND  |  INFO
CHICAGO  |  INFO
---

POSTPONED due to Covid 19

Vlatko Stefanovski and Theodosii Spassov
Regent Theatre. Toronto  |  Date to be Determined
TICKET & EVENT INFO coming soon