Due to the current situation caused by COVID19 pandemic all concerts are postponed until further notice.


From PureLiveMusic – PLEASE NOTE:

All shows for the Zdravko Colic "Ono Malo Srece" 2020 USA/Canada Tour have been rescheduled!
Thanks again for your patience & support as we worked through this.
Hold on to your tickets, there is nothing you need to do, they will still be valid for the rescheduled date.
If you have any questions, please email us at info@purelivemusic.com

Tour Organizer PureLiveMusic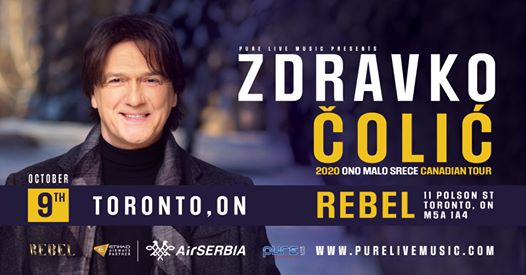 EVENT INFO  |  Buy tickets online  |  Buy tickets locally
---

POSTPONED TO DECEMBER 


HARI MATA HARI & VALENTINO – live in concert
Tickets on sale on March 10th @ 10am EST.
DEC 11  –  TORONTO  |  INFO & TICKETS
DEC 12  –  DETROIT  |  INFO & TICKETS
DEC 17  –  NEW YORK  |  INFO
MAY 18  –  CLEVELAND  |  INFO
DEC 19  –  CHICAGO  |  INFO
---

POSTPONED 

Vlatko Stefanovski and Theodosii Spassov
Regent Theatre. Toronto  |  MAY 22, 2020
TICKET & EVENT INFO coming soon